Contamination Control for Transportation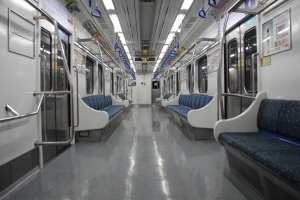 ClorDiSys has a long history of working in some of the most sterile environments in the world. Since 2001, we have been growing our expertise by learning from the places we've worked and visited. We're looking to help transportation professionals apply the most practical of these tools and techniques to their protocols for their enhanced contamination control plans. With a unique set of risks due to the congregation of people from numerous households, transportation vehicles require extra precaution to ensure the safety of you, your staff, and commuters. With everyone's heightened awareness to the risk of infection, incorporating and advertising an increased sanitation protocol will show that your business is taking the best steps to ensure everyone's safety.

Please give us a call at 908-236-4100 to discuss your situation or click here to have someone contact you.

Below are some products well suited to control the spread of SARS-CoV-2, and other common pathogens. These products feature the use of ultraviolet light, an easy-to-use and highly effective disinfection method. Our UV-C products are currently being used in Hospitals, EMS Squads, Doctor's and Dental Offices, Police and Fire Departments, Pharmaceutical Manufacturers, Food Manufacturers, Public Transportation, Construction Companies, Universities, as well as Office Buildings.
Ultraviolet Light Products
The Lantern is a small, portable UV-C device used to disinfect areas up to 8'x8' in about 5 minutes. The Lantern can be used in larger areas by splitting the area up and performing multiple treatments. Designed for ambulances but effective for a number of spaces, the Lantern can either sit on its base or be hung upside down from a railing or other post to disinfect in multiple directions. The Lantern is ideal for busses, subway cars, elevators, and other vehicles.
The Torch is a portable UV-C device used to disinfect areas up to 20'x20' in about 5 minutes. The Torch can be used in many different environments including subways, elevators, bathrooms, rooms, waiting rooms, office areas, and bathrooms. With remote operation and motion sensors, the Torch can be safely operated right out of the box.
The Torch+ is also available which includes an integrated UV-C sensor, data logging and iPadTM control.
The Flashbox-mini is a UV Disinfection Chamber which can be used to disinfect small items such as masks, visitor badges, cell phones, tablets, small tools, and other handheld electronics in just 30 seconds. The Flashbox-mini is used at entrances to disinfect items that employees, contractors, and visitors bring into your facility, or simply for the routine disinfection of commonly used items.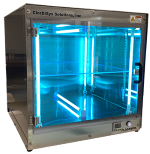 The Flashbox is a UV Disinfection Chamber which can be used to disinfect larger items, or simply a greater quantity of small items at a time in just one minute. The Flashbox can be placed at an entrance to disinfect items coming into the facility, or used at a central location inside the facility to disinfect masks, laptops, mail, tools, electronics and more.
The Flashbar is a UV-C light fixture that can be mounted to the ceiling or walls to create disinfection chambers and rooms. In some facilities these are located in common areas, such as bathrooms and breakrooms to disinfect their surfaces when unoccupied. More sophisticated control systems are available where the lights are on timers, or connected to motion sensors to turn off if doors are opened into a room being disinfected.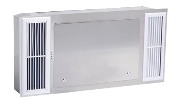 The Torch Aire-Recessed provices continuous disinfection of room air. UV-C lights are shielded to allow the room to be occupied during use, making it ideal for bathrooms, breakrooms and other common areas where transmissions are more likely to take place.