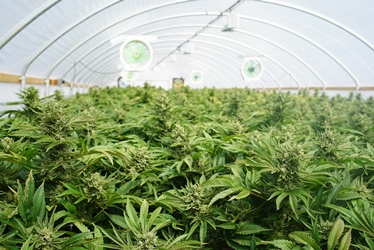 During the Marijuana growing process, mold can occur at any point but when it does, it can wreak havoc on your entire crop, and therefore your profits. Mold prevention and remediation are practices that are essential to a successful grower. Before plants enter the growing room, it is key that measures are taken to ensure no mold spores are present that can result in them finding their way to the crop. This can be done to 100% effectiveness through chlorine dioxide gas decontamination of an entire facility. Visit our What is Chlorine Dioxide Gas? page to learn more about the technology and our process. A quick, chemical-free, highly effective method of disinfection can be implemented through ultraviolet light. UV-C is the spectrum of light that will kill harmful organisms and spores within minutes. Unlike a gas that can result in complete distribution of the decontaminating agent, UV-C will only kill where light is emitted onto. However, for a highly affordable, highly repeatable and easy method, UV-C is the optimal solution. The Torch offers an innovative room disinfection method that is portable and movable so various spaces can be disinfected within your facility. You can view all of our Contamination Control Products to see what might fit your facility's needs best.


Seeds may also be carriers for mold spores and pose risk for further mold issues. Seeds can either be placed in a gas isolator or in an ultraviolet light chamber to achieve kill on potential spores without causing death to the seed.

Mold spores are also highly present in the air. To destroy this risk, ultraviolet light air circulation technology can be implemented to eliminate spores. Click here to see the differences between the Torch Aire and common air filtration methods.

In the growing phase, a UV Room Disinfection unit or overhead/wall lighting system can be used to kill surface mold within the room or on plants. Learn more on the Flashbar and Torch.

In the drying phase, an ultraviolet light chamber can be utilized for buds to be placed in and kill and spores still present or that may be newly formed. Learn more on the Flashbox and Flashbox-mini.