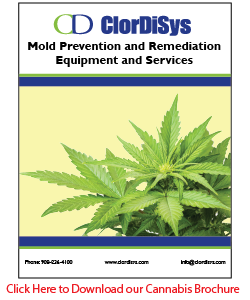 Controlling mold and other microbial contaminants is essential to any operation as it is a strong threat to cannabis, potentially wreaking havoc on crops. Mold can occur at any point because it can grow on almost any substance when moisture is present. Most molds are relatively harmless and ubiquitous in the environment; however, some may present a health threat when inhaled, particularly to immunocompromised individuals like some medical cannabis users. Contamination can happen during the cultivation, harvesting, drying and curing, or extraction processes. Mold prevention and remediation are practices that are essential to a successful grower.

Before plants enter the growing room, it is key that measures are taken to ensure no mold spores are present that can result in them finding their way to the crop. Traditional cleaning methods may not account for airborne mold spores, tight spaces, and human error. 100% effectiveness can be achieved, however, through the utilization of gaseous chlorine dioxide, an EPA registered sterilant. For a complete kill of all potential organisms in the entire facility, chlorine dioxide gas is the optimal way to fill an entire space evenly and completely, decontaminating every surface, crack, or crevice with no residues or additional cleanup.

Visit our What is Chlorine Dioxide Gas? page to learn more about the technology and our process. A quick, chemical-free, highly effective alternative is ultraviolet light disinfection. UV-C is the spectrum of light that will kill harmful organisms and spores within minutes. Unlike a gas that can result in complete distribution of the decontaminating agent, UV-C will only kill where light is emitted. However, for an affordable, quick, and easily operated method, UV-C is the optimal solution. View all of our Contamination Control Products to see what might fit your facility's needs best.

Prior to entry into a clean growing facility, it is important to ensure seeds will not be carriers for mold. A contaminated seed can put the plant at risk for mold before it even grows. Seeds can either be placed in a chlorine dioxide gas isolator or in an ultraviolet light chamber to achieve kill on potential spores without causing death to the seed.

Mold spores are also highly present in the air. Mold can easily travel room to room, even between attached buildings if the air ventilation systems are connected. To reduce this risk, ultraviolet light air circulation technology can be implemented to eliminate spores.

In the growing phase, a UV Room Disinfection unit or overhead/wall lighting system can be used to kill surface mold within the room or on plants. If there are complex shapes to the space or objects in the space, the unit may need to be repositioned or multiple units may be needed to ensure as many surfaces as possible are exposed to the disinfecting light.

In the drying and curing phases, buds can be treated by ultraviolet light to eliminate mold that may grow on the surface during the drying and curing phases. The buds may be placed inside a UV-C disinfection chamber to receive direct 360-degree exposure quickly killing spores wherever the light shines. Learn more on the Flashbox and Flashbox-mini.

Drawing upon our experiences in contamination control within many different industry types, including pharmaceutical cleanrooms and food production, ClorDiSys delivers solutions that have been used successfully in some of the world's most critical environments. From seed to store, ClorDiSys Solutions can help manage your risks and produce safer products for your consumers.